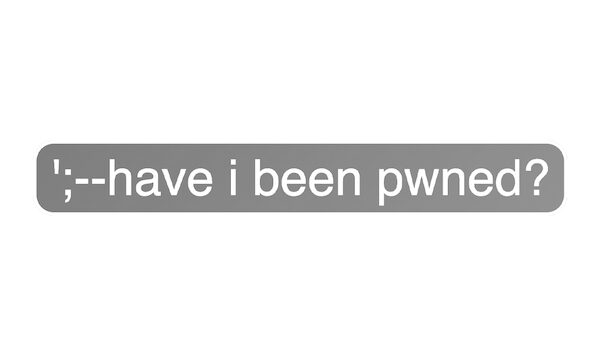 FBI Hooks up with 'Have I Been Pwned'
In this age of cyber security insanity you sometimes need the help of a friend who knows what they are doing. That's what we try to do here at 'OnTechStreet'. And those nice people at 'Have I Been Pwned' are doing the same.
First, let me say this, 'Have I Been Pwned' is a top notch service providing invaluable information in this age of cyber data breaches, system hacks, ransomware attacks and phishing attacks. 'Have I Been Pwned' is one of the good guys and you should be aware of this if you use the internet. And by the way it is pronounced "Owned" though it is spelled weird.
So, in case you didn't know, let me explain how the service works. You just go to the website and enter your email address and click "Pwned?" if your email address has been caught up then you can change your password for that website(s). Act accordingly and quickly. Its really simple and could save you serious headaches and money. It protects you against data breaches that become public knowledge. Of course they can't tell about the ones they don't know about. And that is where the FBI comes in. The FBI may come across information during the course of the investigation that is not public knowledge. Remember some data breaches and computers hacks are months old before they become publicly known. The FBI may even know before the company knows itself!
'Have I Been Pwned' will soon starting to receive password hash information from our friends at the FBI. So basically if your password gets compromised in a hack and ends up in the hands of a crook you have a way to find out. This is a significant expansion of the service that 'Have I Been Pwned' provides.
'Have I Been Pwned' founder Troy Hunt announced on his blog that the site is now working with the FBI. The federal agency will share compromised passwords directly with the site that have been uncovered during its investigations. So now even if you don't read about in the news or get a frightening email from a website you will know.
"We are excited to be partnering with HIBP on this important project to protect victims of online credential theft. It is another example of how important public/private partnerships are in the fight against cybercrime," said Bryan A. Vorndran, Assistant Director, Cyber Division, FBI.
This is a good deal for all concerned but its not going to happen right away. Hunt stated on his blog that receiving the new feed from the FBI would need some dedicated coding, and, in his own words said, "If I'm completely honest, I don't have all the answers on how things will proceed from here."
How do you keep your passwords safe?
You already know its a pain in the ass since most people have about 100 passwords. No way you can remember them all. We all get lazy in our password creation and stupid stuff like using the same password over and over again or using that password years after year. That's how you get hacked! If someone figures out your password for a site like Amazon or eBay and its the same password for you bank account you could be screwed but good! Password security is all that stands between you and a life changing event like identity theft or or bank fraud. Avoid this nightmare…PLEASE!
Here are a few tips to secure your password;
Don't use the same password across multiple sites
Get into the habit of checking haveibeenpwned.com regularly to ensure that your details haven't been comprised
Devise a strong system for creating passwords. Here a few suggestions
Don't share your passwords with anyone. NO! NONE! NEVER!
Enable 2-Step verification where possible.
Invest in a password manager.
Also of interest – You Need a Password Manager Don't You?
Now you know.