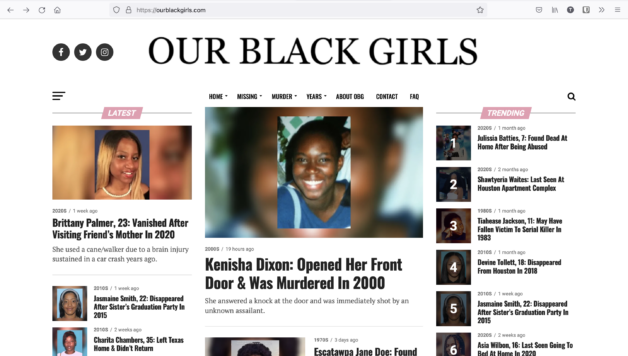 Website Highlights Missing Black Women
"Missing White Women Syndrome" is real. When a white female goes missing it's just short of a national emergency. All hands on deck. No expense is spared. Nothing gets media and police attention like a missing white female. But tell the media or police that a black women is missing and the reaction is…she is just missing. No need for alarm.
You have no doubt heard about the latest national emergency involving Gabby Petito and her boyfriend Brian Laundrie. Apparently the two went in a cross country trip, had some kind of argument and she disappeared. Even the FBI was mobilized to find this one women. She was young, white and pretty and now she is dead and the boyfriend can't be found. And the nationwide reaction is nothing less than a full on outbreak of missing white women syndrome.
But here some shocking news you need know, tens of thousands of Black girls and women go missing every year. Last year, that figure was nearly 100,000. Did you hear about that? No. I didn't think so and you're not alone. Missing black women and other women of color just don't get the attention from the media or law enforcement  they deserve. Why? Because they are not white that's why. What made Gabby Petito so special. Young? Pretty? White? Or all of the above?
Our Black Girls is a website dedicated to highlighting the ignored missing women of color. OBG speaks for the missing Black girls and women or those were found dead under mysterious circumstances. Journalist and activist Erika Marie Rivers launched OBG in 2018. In addition to her regular job Rivers searches through missing persons databases, archived news and whatever information she can get her hands on to piece together the story of these black women and publishes what she finds almost daily.
Rivers points out the often mysterious circumstances around the disappearance of these black women knowing it could have just as easily been her. Rivers writes the victims are "walking down the street or they're going to the store or 'they'll be right back,' and they just disappear," she says. "It could happen to me at any time."
"And I know that there are a lot of stories like that about girls and women who look like me, so why am I not seeing them as much as I'm seeing everything else? And then it became, why am I waiting for somebody else to pick up this banner when I'm the one who's passionate about it?"
The mainstream media seems to miss the fact that Black girls and women go missing at shockingly high rates. In 2020 268,884 girls and women who were reported missing. But 34% or 90,333, were Black, according to the National Crime Information Center.
But what is most shocking is that this is not a number that is new or unknown. Black women and girls have been going missing for decades many never seen alive again. But Gabby Petito was officially reported missing on September 11th and her body was found on September 19th and officially identified on September 21st. Ten days!
In Wyoming, where Petito's body was found, a state report  showed  more than 400 Indigenous girls and women went missing between 2011 and the fall of 2020. Between 2000 and 2020 Indigenous people made up 21% of murder victims in Wyoming while only making up less than 3% of the state's population. But contrast that with the media coverage of white homicide victims and you get only 18% of Indigenous female victims received coverage. However, 51% of white victims were in the news.
Now you know.