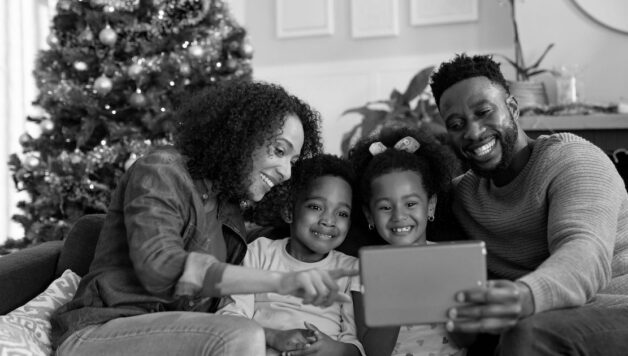 'Tis The Season to Teach Children about Money!
The holiday season is shopping season but it can also be a time of teaching and learning. As Black people we have struggled to accumulate and hold on to wealth. Why? Because we are not as financially literate as we should be. In other words we don't know how to control and spend our money. Financial literacy is not taught in school and many parents are not aware of how their kids, or even themselves, are wasting money. This has to stop.
But a good financial education can be a child's best friend as they grow older and begin to make their own money. Now, not tomorrow, is the best time to teach Black children the importance of good financial management.
'Tis the Season! Your child is probably looking forward to doing a little Christmas shopping themselves and will most likely go online. Amazon, Ebay and all the other shopping sites are buzzing this holiday season. And so are your children.
I invite Black parents check out some of the top games and apps for teaching children to manage money. And the holiday season is the best time to do it.
H.I.P Pocket Change
H.I.P Pocket Change is actually a federal government website run by the United States Mint.
I am not sure what H.I.P. Pocket Change really means because when you go to the website it says its the U.S. Mint Coin Collection. The site is intended to teach children about the money Americans use and its history. In its many pages children can find tons of child friendly information about how coins are made, current U.S. coins, coin collecting as a hobby, and the mint itself. This is a good start to understanding the basics of money.
The website has a ton of games. Some are just for fun. But all Black people know money ain't no game! So the game you want your kids to focus on is one that teaches children real-world money skills is Counting with Coins. This game teaches preschoolers and young school-age children how to identify different coins and their values, add prices, and perform basic math tasks. As they complete challenges, they earn badges and collect supplies for cartoon characters going on a camping trip. There is a lot to be learned from this website and your children will enjoy it.
Practical Money Skills
More stuff for the youngest children to learn about money and have fun is on Practical Money Skills website. This subsection of the financial literacy site features games that teach various money skills.
This website has games set up for children ages 3 to 6. They can have fun with Cash Puzzler which is a simple puzzle that cuts a picture of a $1, $5, $10, $20, or $100 bill into small squares for the kids to re-assemble it. After solving the puzzle, kids can read fun facts about the president featured on the bill.
Peter Pig's Money Counter is for 5-8 year olds and teaches them how to identify coins and add their values. For playing the game the children are awarded virtual money which they can choose to save or spend on accessories for Peter Pig in the virtual store. There various other money games for children and parents can download Apple and Android apps for mobile devices.
But in reality Practical Money Skills is a site for some serious money handling education. The site is full of information for kids and adults that include;
Budgeting
Saving
Financial institutions Basics
Credit
Identity Theft
Debt
And various Life Events and Finance strategies.
This Practical Money Skills website is something no parent should overlook and I consider it the best of the websites I researched. Its lessons are broken down for various learners from K-12 to college students and even kids with special learning needs.
Savings Spree
Savings Spree is an iOS app sponsored by Money Savvy Generation. The game is extremely helpful in teaching kids to focus in the long term goals to save money for a specific purpose, like holiday shopping for next year. The game is hosted by a talking cartoon pig and looks like a game show with players as contestants. Although the game is designed for ages 7 and older younger children can play with help from a parent or older sibling.
What is key to the game is that Savings Spree shows children how daily lifestyle choices can affect long-term savings. Imagine a game that shows kids how buying a single soft drink everyday can add up to over $500 in a year. Think about that the next time you're in Starbucks! Another cool thing is that it also teaches children about unexpected expenses and how they can derail your savings plans and the importance of having an emergency fund.
The Savings Spree is an award winning app that costs just $5.99. It has been recognized by Parent's Choice Foundation, Children's Technology Review, and the National Parenting Product Awards program.
You Are Here
Yet another government website that teaches children about handling money is You Are Here from the Federal Trade Commission. This website is meant for children from fifth to the eighth grade. And ask any parent and they will tell you that's when most kids become very aware of money. Your Are Here teaches kids to become better more savvy consumers. The site features an imaginary shopping mall populated by colorful cartoon teens. But this mall offers different sections that teach some interesting lesson. These include;
West Terrace. Children need to understand that advertising manipulates them so this area focuses on advertising and marketing. Kids can learn about advertising techniques by designing a poster ad, play a matching game to learn about target marketing, visit Gr8 Gadgets to understand how TV ads can be misleading, and check out the Nutritional Emporium to learn about suspicious health claims. Trust me, you want your children to know what advertising can do to them and their money. Especially African-American children.
East Terrace. Everyday we run into a scam of some type. so your children need to be aware of this. The East Terrace teaches kids about scams. They can learn about bogus modeling offers at Clothing Co., fraudulent health products at Maggie's Miracle Products, phony freebies at the Free Vacation booth, and tips for spotting scams at Kablamo Comics.
Food Court. The food court showcases the idea of business competition. Kids can learn about competition by visiting three competing pizzerias, watch a documentary about monopolies at the movie theater, explore the concept of supply and demand at Candytooth Kingdom, and protest a proposed merger at the Tripple Cold Creamery.
Security Plaza. This area is devoted to fighting identity theft. Mall security explains how to reduce your identity theft risk, while network security discusses online privacy protection. Then kids can head to the arcade to learn what information it's most important to protect and the book cafe to learn safety on social media.
Teaching Kids About Online Shopping
Going online is dangerous for anybody. So teaching your kids about online safety is not optional. YOU MUST DO IT! And that includes shopping. Shopping online is wonderfully convenient, but make damn sure your kids understand the dangers that can pop up at their next click. Again; IT IS NOT OPTIONAL! There are some basic practices you need institute when you child or teenager begins shopping online.
Basic Tips
Shop with your child. Start by limiting their shopping to a few sites that you know and approve of. This shows your child online shopping is fine when you take the right precautions. Kids are pretty internet savvy these days but you may need to teach them some basic skill around the process of searching for and finding items, price comparison, reviewing an online cart, entering personal information, confirming order information and saving purchase confirmation pages or emails.
Personal information is very important to protect so teach your child about opening online accounts and to understand how information maybe collected.
Two questions every child should know to ask are; "What is this?" and "What do I do?" Encourage your child to ask both questions if he or she sees anything they aren't familiar with. Provide the child the best information you can about how the sites and retailers are operating, thereby directing their next course of action on the sites. Teach your child the difference between a good deal and a "too good to be true deal." As in, "No you don't get a brand new X-Box for twenty dollars!"
Teach your child to get in the habit of double checking items and shipping totals. Make sure they understand that shipping is not always free and make sure they are aware of subscriptions that automatically charge credit or debit cards month after month. Mistakes sometimes happen so double check your child's online purchases before they click on the "order" button. A good thing to check is whether the number of each item ordered is correct. Another thing you may want to do is provide them a debit card with a limited amount of money available. This helps them to learn to budget limited funds.
Scams
Adults fall for scams so why not kids? A common scam that targets children who shop online is the dreaded subscription scam. Every teenager loves to have the latest music on their device. Music subscription services are a constant source of subscription traps. An example is your teenager agrees to buy the latest release from their favorite artist for $1.99. But they fail to read the fine print that signs them up for a years worth of music for $20.00 a month. Ask any parent, it happens. Another source is games and apps from outside the normal channels. Third party sites for games, music, social media apps are saturated with scams, information theft traps and malware. To avoid these scams, teach your child to comparison shop, check reviews of the products and avoid third party app and music websites.
Personal Information and Identity Theft
Protect your child's identity! Whenever your child buys something online the retailer will need certain information like his or her address, email, phone number etc. You child will also have to provide information for the payment method, such as a credit card number, expiration and security code. Educate your child that this information must be given out cautiously because it can lead to identity fraud. How sensitive is this information? The details used in an online purchase can tell the retailer, or a predator, exactly where to find you and your child, email can give away their social media account and a phone number can open them up for unwanted text messages or images. This is dangerous stuff. Explain to them that legitimate vendors should not be asking for more than this information and to stay away from sites that request data like Social Security numbers. Make sure they learn to use a VPN even on sites you trust, and use antivirus software. You may have reservations about spying on your children, and that's not a bad thing, but you should track your child's browsing history and key entries.
Overspending
Make sure your child understands the value of money. That it does not grow on trees and that it requires constant monitoring and care. That means budgeting and knowing what something is worth. Keep track of their spending and their balances. Try techniques like providing your child a prepaid card or PayPal account for their purchases. This will help limit their buying power and force them to consider their choices.
There is no season like a holiday shopping season to teach children about money.
Now you know.