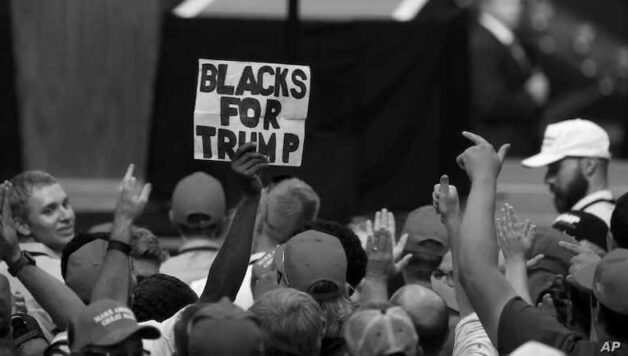 Fake African-Americans Supporting Trump
We have heard about "Blacks for Trump." And there may indeed be African-Americans supporting Trump. But many don't exist, online or in real life. The Trump campaign has been accused of paying African-Americans to stand in obvious camera view at his rallies. But online some African-Americans supporting Trump have been faked.
Facebook has released a new report on its activities to curb "coordinated inauthentic behavior." Facebook revealed last month it removed 35 Facebook accounts and over 90 Instagram fake accounts posing as African-American accounts that originated in Romania and pushing content about U.S. politics.
The Romania-based bots posted about black people being in support of the Donald Trump and his re-election campaign. The bots seem to be working for the Trump campaign directly by re-publishing content coming from the Trump campaign itself . According to Facebook one of the pages went by the handle "BlackPeopleVoteForTrump" on Instagram and on Facebook "We Love Our President."
Of course to the average black person it is obvious what the bots were up to but not Facebook. According to NBC news Facebook's head of security Nathaniel Gleicher said the motivations of the troll farm behind the numerous accounts is unclear.
But who is behind this fakery? According to researchers at the Atlantic Council many of the troll farm's posts came from a source named "David Adrian." Adrian is using a stolen profile photo while claiming to be living in both Romania and Montana. Facebook, Instagram and Twitter have removed multiple accounts linked to David Adrian.
Facebook pointed out that the take downs were based on "behavior, not content," like breaking rules against creating fake accounts to boost engagement on some pieces of content.
Breaking It Down
Facebook is as guilty of election meddling as any Russian you can find. There seems to be some kind of collective ignorance inside Facebook that refuses to believe what is plainly obvious. Gleicher is saying that he sees no connection between the action of the Romanian bots and the 2020 presidential election. Ok, so tell me Mr. Gleicher, what do you think they were doing?
Facebook has become a menace to privacy., democracy and just plain common sense. It has tried for a while to block or control election interference, misinformation, racist and hateful content, and just plain stupid and dangerous things people post on its platform. And have failed like a wet firecracker. Its time we stop playing games with Facebook and come down hard on Zuckerberg's monstrous machine. I encourage the government, and hopefully a new administration, to break this thing into little pieces.