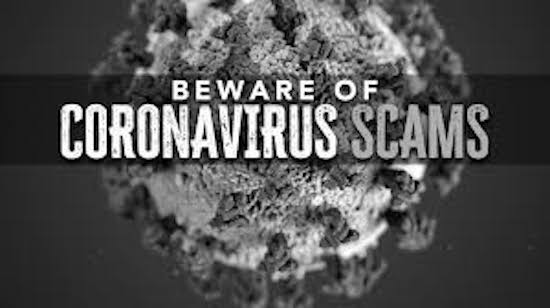 As the nation does battle with the micro-organism known as Coronavirus or Covid-19 we are also at war with the slimy bastards that use the crises to steal people's hard earned money. This crises is just like any other crises in the sense that human scum uses it to commit crime for profit. Covid-19 scams are everywhere. But you can fight back or at least learn to spot the scam.
Covid-19 Shopping Scams
According to the Federal Trade Commission (FTC) COVID-19-related shopping scams are its top Coronavirus related consumer complaint.
Andrew Smith, director of the FTC's Bureau of Consumer Protection described to congress the numerous deceptive advertising or marketing scams touting "miracle cures" for COVID-19. The FTC also detailed complaints about merchants offering masks, personal protective equipment and related products for sale but then failing to ship the promised products, meet delivery agreements or provide refunds to consumers.
Warning letters from the FTC about these false claims are usually enough to get these companies to correct their claims or at least change their wording. But all too often they just change their tactics or the company name and begin again. Many fake companies online have no inventory of product and simply take your money and run. The FTC has sent more than 250 warning letters to marketers regarding claims that their products will treat, cure or prevent COVID-19.
Contact Tracing Scams
This is one of the newest scams to hit the internet. It works because few people understand exactly what contact tracing is and how it works. So lets take a step back explain what contact tracing is.
According to Duke Forge contact tracing identifies chains and modes of transmission during infectious disease outbreaks by documenting exactly how and through whom a disease has spread. In other words who has the disease and who were they in contact with and how. For example; was the person with the disease in intimate contact with another person; or was it non-intimate contact such as a co-worker or somewhere in the middle like a child, parent or close friend? And if a person was exposed who else did they go on to be in contact with?
Contact tracing is typically accomplished through a series of interviews with patients, caregivers, and contacts or, in other words, anyone who has been in close enough contact with a patient to have been exposed through the disease's mode of transmission. Contact tracing can be done using these methods as well as using a person's electronic devices especially their smartphone. These devices can reveal if you were even close to someone with the disease such as in an office, restaurant or other closed space.
But How does a Contact Tracing Scam Work?
Most contact tracing scams are aimed at stealing information. Your personal information that can used in a variety of ways including stealing your identity.
Scammers are pretending to work for local public health agencies and may call, email or show up at your door to ask for sensitive information and literally scare you into revealing this information. Some scammers have been able to trick people into turning over copies of their birth certificate, driver's license or other sensitive documents.
The danger of contact tracing scams is that the public will not trust legitimate contact tracers when they call or text unexpectedly. Contact tracing is expected to become a key part of the U.S. strategy to stop the transmission of Covid-19.
Unsuspecting consumers may get text messages stating that they have been in contact with an infected person and they need to call a number or email certain information.
The FTC recommends filtering unwanted text messages, turning on two-factor authentication and updating phone software to the latest version. But for the most part, people need to be careful about ignoring and deleting scam messages. Before you provide any information to anyone contact your local health department to see if they have implemented or deployed a contact tracing program. Do not fall for a voice on the phone, a frightening email or text message.
The emergence of contact tracing scams could also complicate the anonymous digital contact tracing technology backed by Apple and Google, which the companies call "exposure notification." But neither Apple or Google have deployed this technology in the U.S. Not yet.
Door-to-Door Scams
Be careful if someone shows up at your front door offering Covid-19 testing. Its scam! Almost nowhere in the U.S. is Covid-19 testing done at your front door. Call the cops! Although plenty of local agencies are testing and doing research on the virus none is done randomly. No healthcare company is authorized to do such testing and please don't pay anyone at your front door for a Covid-19 test.
Government Payment Scam
Anyone claiming to be from the federal government should be treated with great suspicion. I don't care who it is. But another common scam is a call from a government agency asking for information in order to expedite your Coronavirus relief payment. These scammers ask for you banking information and other information that could allow them to get into your bank account. There are also IRS scams where the caller may claim to verify your income to receive a relief payment. The ask for tax data and other information. Again, not happening! This is almost always a scam and you need to hang up immediately.
Yet another Covid-19 phishing scheme uses email or text message that appears to come from a legitimate source like the IRS and includes a "notice" that is actually a virus-laden attachment or link. Don't click on it. Delete it. Te IRS does not send email!
Donation Scams
The Covid-19 pandemic has left many people out of work and in need of help. And there are plenty of legitimate organizations asking for your donation, Make sure you pick he right one. There are literally thousands of fake Coronavirus relief funds asking for money. There are ways to donate so that the help goes to those in need and not those in need of a new Bentley. The FTC offers these tip to make sure ytou are giving to legitimate charity. And especially do not donate to anyone showing up at your door seeking donations.
Check a charity's name through a simple online search using the words "scam" or "fraud"; fake charities will typically use names similar to those of well-known organizations.
Review ratings on the FTC's link, or by searching Guidestar or Charity Navigator, which has developed this list of approved COVID-19 charities.
Don't rush, says the FTC. Only scammers rush victims and ask them to make donations in cash, or with gift cards and wire transfers.
Now you know.