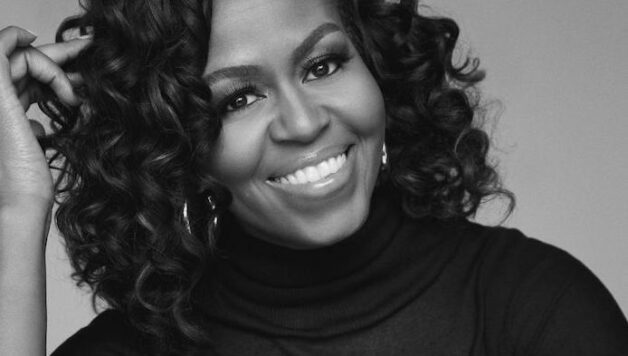 Celebrity Cyber Report – Michelle Obama, Jay-Z
Former First Lady Michelle Obama announced the release of her documentary film "Becoming" on Netflix. The documentary, directed by Nadia Hallgren, follows Mrs. Obama's tour promoting her bestselling memoir of the same name.
The documentary was produced by Higher Ground Productions, the company the Obamas formed to create content for Netflix, Spotify and others.
Michelle Obama also provided a letter to go along with the release describing it as not your standard book tour. "In groups large and small, young and old, unique and united, we came together and shared stories, filling those spaces with our joys, worries, and dreams," wrote Obama.
Netflix expects the film to launch on its platform on May 6.
Higher Grounds has been a very busy production company. Here is list of the films they have produced or are producing.
"American Factory" was purchased by Netflix in association with Higher Ground Productions where it won the 2019 Sundance Film Festival Directing Award for U.S. Documentary.
"Bloom" is a dramatic series set in the world of fashion in post-WWII New York City. The project was written, produced and developed by Callie Khouri.
Higher Ground is producing a feature film adaptation of author David W. Blight's "Frederick Douglass: Prophet of Freedom," for which he won the 2019 Pulitzer Prize in History.
"Overlooked," is adapted from the New York Times' obituary column and tells the stories of remarkable people whose deaths were not reported by the newspaper. Higher Ground is developing the concept as a scripted anthology series with producers Liza Chasin of 3dot Productions and Joy Gorman Wettels of Anonymous Content.
"Listen to Your Vegetables & Eat Your Parents" will be a half-hour preschool series from creators Jeremy Konner and Erika Thormahlen. The show will take young children and their families around the globe on an adventure that tells us the story of our food.
"The Fifth Risk: Undoing Democracy" is a non-fiction series that portrays the importance of unheralded work done by everyday heroes guiding our government and safeguarding our nation.
"Crip Camp" is a feature-length documentary film in production that is supported by the Sundance Institute and acquired earlier this year by Higher Ground and Netflix. While Woodstock was becoming a cultural milestone in the early 1970s, a parallel revolution took place just down the road. A summer camp for teenagers with disabilities would spark the disability rights movement. The film is directed by former camper Jim LeBrecht and Nicole Newnham. Producers include Newnham, LeBrecht and Sara Bolder, with executive producer Howard Gertler.
Michelle Obama has been busy reaching out to children during the COVID-19 pandemic. The First Lady also announced that she will be hosting "Monday's with Michelle" children's story time online.
Obama has concluded a special arrangement with Penguin Young Readers, Random House Children's Books and PBS KIDS. She will be hosting the show which kicked off on April 20th. The four-part weekly program will feature the First Lady reading classic children's storybooks and will run through May 11th on both Facebook and YouTube. The series is part of the recently announced "Read Together, Be Together" online initiative.
The two remaining shows will be live streamed on May 4th and 11th on PBS KIDS' Facebook page and YouTube channel. All shows will remain available for viewing on demand on all of those platforms indefinitely.
Jay-Z
Apparently Jay-Z's company is not laughing at a deep fake video using his voice. A deep fake video/audio recording is a highly sophisticated method using artificial intelligence that makes people look like they are doing or saying something they are not. The technology is becoming highly controversial because of its ability to manipulate audio and video.
Jay-Z's RocNation LLC, filed copyright strikes against the YouTube uploads of a audio creator who remains anonymous and is only known as "Voice Synthesis." A copyright strike is a legal request by a party to remove a video because of a copyright violation.
RocNation's request specifies that "this content unlawfully uses an AI to impersonate our client's voice." The channel itself has nearly 40,000 subscribers, and many of its videos have racked up hundreds of thousands of views. In the audio Jay-Z's voice is used to to rhyme classics like William Shakespeare's "To Be or Not to Be" soliloquy from Hamlet and Billy Joel's "We Didn't Start the Fire."
After initially removing the videos, YouTube reinstated them saying "After reviewing the DMCA takedown requests for the videos in question, we determined that they were incomplete. Pending additional information from the claimant, we have temporarily reinstated the videos."