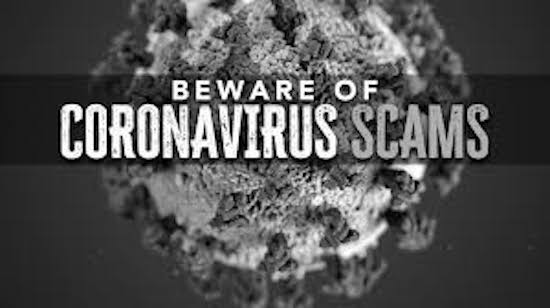 Scam Alert! Coronavirus Scams are Everywhere!
Lets face it, the internet has been infested with scams from day one. And the COVID-19 pandemic is just more of the same scams with a different angle. Be alert to these scams especially the newest Coronavirus scams. To help you stay alert here is a few of the latest scams making the rounds. Please don't fall for these.
Fake government websites
A government website is no different from any other website. It can be copied and used to fool you. Most state and local government websites are poorly maintained as it pertains to cyber security. They are routinely hacked, defaced and held hostage by ransomware.
In the rush to file for unemployment benefits many people fail to check the URL on the website and end up giving the crooks a lot of their personal information. Information they use to steal your unemployment check. Make sure you are using you local government's web portal. The webpage address should end in .gov. Bad signs to look out for include hyphenated URLs, web addresses that replaces some letters with numbers in the name, misspelled agency or government names, sloppy or low resolution images and logos and pop up windows. Be on the defensive always.
The government won't call
No one from the IRS, the Social Security administration or the government is going to call you to talk about your stimulus check. Beware of anyone claiming to be managing the program for the government and never ever respond to pre-recorded calls.
Be aware of a few things if you you should find yourself talking to someone you suspect is a scammer. Phone numbers can be spoofed. That means that they can look like they are calling from a government number but that does not make it so. They may know your name and other information. So what? They can get a lot of that information from the internet or a website of stolen data. The offer may sound to good to be true. Like "We'll lend you up to five times the amount of stimulus check." Don't fall for it! This scam works by getting your banking information which they use to clean you out.
You don't need to prove to the government you got the check
Please don't click on any email from the government asking you to confirm that you received your stimulus check. There are scam emails circulating on the internet that will ask for your personal information to either confirm your personal data to get your check. Or to provide information to prove you are eligible for the payment. Don't do it!
Some scammers will call claiming to be from the government and tell you you received too much money and you have to return some of it or they will immediately seize your bank account. They may ask for a credit or debit card number. Don't do that either!
Supposed you get your check in the mail. The government will not charge a processing fee. Don't fall for any letter or email asking for payment. Another hot scam is you get a check in the mail when you already received a direct deposit. Someone calls you and asks you to return the money immediately via a electronic finds transfer or using your credit or debit card. Don't do that. Report the scam to the local police or the federal government.
Scam websites and charities
No one is going to expedite your unemployment claim. You have to wait in line like everybody else. But there are fake websites claiming to provide rush service for unemployment claims. They won't. You fill out the forms and get your identity stolen in addition to the fees they charge for the fake service.
Also be careful when you apply for additional aid from groups that claim to be providing grants to workers impacted by the COVID-19 pandemic. There is a lot of fake charities that are preying on unemployed workers by stealing sensitive information to be used later. And if you are feeling charitable then be careful there too. These websites may ask for a donation to help workers and just run off with the money. You can find a list of legitimate Coronavirus charities from Charity Navigators.
I could spend the rest of the year writing about Coronavirus scams. Please be alert to these scams. Exercise extreme caution when dealing with your money. Here is some good advice; even if you believe something is legit ask questions anyway. Think of a reason to be be suspicious. Imagine what the caller or email may be up to. Research the caller , the agency or the charity before you part with a dime or any information. We all understand that the virus may kill you. Now imagine being sick and discovering that someone cleaned out your bank account or maxed out your credit card.
Now you know.
For more information on Coronavirus scams check these federal websites
U.S. Department of Justice Coronavirus Response
The Federal Bureau of Investigation