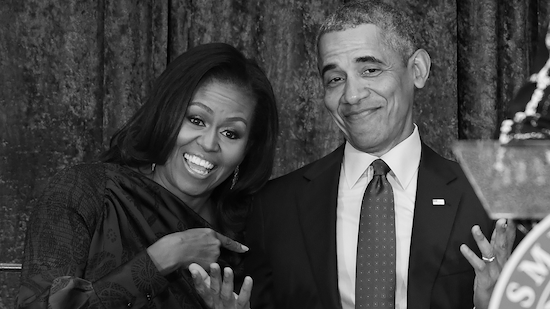 Celebrity Cyber Report – President and First Lady Obama
COVID-19 has turned the world on its head. Nothing is normal anymore. And many students are going to miss the day they have looked forward most of their lives. Graduation day.
Young people denied a graduation ceremony this year because of the pandemic social distancing practices will still get a special day to remember. Former President and First Lady Barack and Michelle Obama announced they'll be hosting two virtual graduation ceremonies, one on Saturday, May 16, and another on Saturday, June 6.
In an hour long special presentation President Obama will deliver a commencement message at the May 16 event entitled "Graduate Together: America Honors the High School Class of 2020." The special will be hosted by XQ Institute, The LeBron James Family Foundation, and The Entertainment Industry Foundation, and will be televised on all major networks and social media platforms at 8:00 p.m. ET.
Obama will be joined by celebrities including LeBron James, Malala Yousafzai, the Jonas Brothers, Yara Shahidi, Bad Bunny, Lena Waithe, Pharrell Williams, Megan Rapinoe, H.E.R., Ben Platt. Other unnamed celebrities are also scheduled to appear.
The "Graduate Together" website encourages high school seniors, educators, and family members of graduates to submit portraits, speeches, superlatives, and "stories that need to be told" to make the experience more interactive.
For the June 6th graduation the Obamas are partnering with Reach Higher the education initiative Michelle started back in the White House and YouTube.