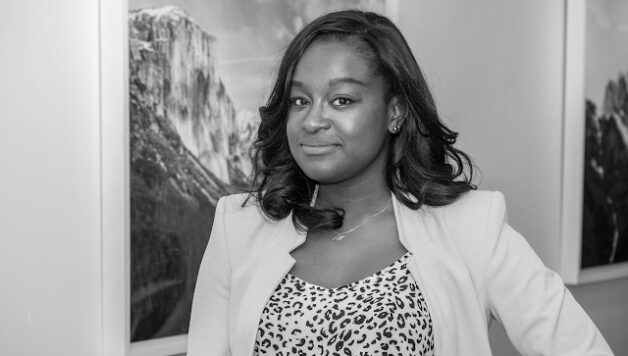 Google Recognizes It's Black Talent – Camille Stewart
It is common knowledge that diversity in the tech sector is, well, less than desirable. And I have to give credit where credit is due. Many tech companies are working overtime to bring in black talent with some success. But still there is more work to be done.
Google admits it has a problem and that is big first step. But even as Black History Month comes to an end the tech giant is not shying away from highlighting its African-American talent.
From the Google Security Blog the company is highlighting Camille Stewart, Google's Head of Security Policy for Google Play and Android.
Originally posted by Royal Hansen, Vice President, Security
Black History Month may be coming to a close, but our work to build sustainable equity for Google's Black+ community, and externally is ongoing. Currently, Black Americans make up less than 12% of information security analysts in the U.S. In an industry that consistently requires new ideas to spark positive change and stand out against the status quo, it is necessary to have individuals who think, speak, and act in diverse ways. Diverse security teams are more innovative, produce better products and enhance an organization's ability to defend against cyber threats.
In an effort to amplify the contributions of the Black+ community to security and privacy fields, we'll be sharing profiles of Black+ Googlers working on innovative privacy and security solutions over the coming weeks, starting with Camille Stewart, Google's Head of Security Policy for Google Play and Android.
Camille co-founded #ShareTheMicInCyber, an initiative that pairs Black security practitioners with prominent allies, lending their social media platforms to the practitioners for the day. The goal is to break down barriers, engage the security community, and promote sustained action. The #ShareTheMicInCyber campaign will highlight Black women in the security and privacy sector on LinkedIn and Twitter on March 19, 2021 and throughout March 2021 in celebration of Women's History Month. Follow the #ShareTheMicInCyber on March 19th to support and amplify Black women in security and privacy.
Read more about Camille's story below.
↓#ShareTheMicInCyber: Camille Stewart
Today, we will hear from Camille Stewart, she leads security, privacy, election integrity, and dis/misinformation policy efforts for Google's mobile business. She also spearheads a cross-Google security initiative that sets the strategic vision and objectives for Google's engagement on security and privacy issues.
In her (not so) spare time, Camille is co-founder of the  #ShareTheMicInCyber initiative – which aims to elevate the profiles, work, and lived experiences of Black cyber practitioners. This initiative has garnered national and international attention and has been a force for educating and bringing awareness to the challenges Black security practitioners face in industry. Camille is also a cybersecurity fellow at Harvard University, New America and Truman National Security Project. She sits on the board of the International Foundation for Electoral Systems and of Girl Security, an organization that is working to close the gender gap in national security through learning, training, and mentoring support for girls.
Why do you work in security or privacy?
I work in this space to empower people in and through technology by translating and solving the complex challenges that lie at the intersection of technology, security, society, and the law.
Tell us a little bit about your career journey to Google?
Before life at Google, I managed cybersecurity, election security, tech innovation, and risk issues at Deloitte. Prior to that, I was appointed by President Barack Obama to be the Senior Policy Advisor for Cyber Infrastructure & Resilience Policy at the Department of Homeland Security. I was the Senior Manager of Legal Affairs at  a cybersecurity company after working on Capitol Hill.
What is your security or privacy "soapbox"?
Right now, I have a few. Users being intentional about their digital security similar to their physical security especially with their mobile devices and apps. As creators of technology, we need to be more intentional about how we educate our users on safety and security. At Google, security is core to everything we do and build, it has to be. We recently launched our Safer With Google campaign which I believe is a great resource for helping users better understand their security and privacy journey.
As an industry, we need to make meaningful national and international progress on digital supply chain transparency and security.
Lastly, the fact that systemic racism is a cybersecurity threat. I recently penned a piece for the Council on Foreign Relations that explores how racism influences cybersecurity and what we must do as an industry to address it.
If you are interested in following Camille's work here at Google and beyond, please follow her on Twitter @CamilleEsq. We will be bringing you more profiles over the coming weeks and we hope you will engage with and share these with your network. 
If you are interested in participating or learning more about #ShareTheMicInCyber, click
here
.