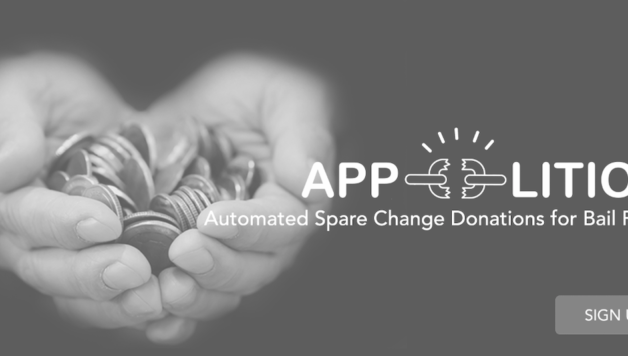 App of the Week – Appolition
It's about money. How much justice can you afford? We all know that the criminal justice system can be a cruel and unfair. Especially for blacks and the poor. Getting arrested for even minor offenses can mean an unjust incarceration before you even get to trial. That is why Appolition is the App of the Week.
How would you feel if you had to plead guilty just to get out of jail when you're innocent? But millions of people make this choice every year because that can't get bail money. Appolition lets you donate your spare change to a fund that provides bail to poor people in jail awaiting trial.
The name "Appolition," combines "abolition" and "app." Users of the app link their bank account, debit or credit card or PayPal account to the app. The app will round up your purchase to the nearest dollar and donate the loose change to National Bail Out. National Bail Out is a network of groups that post bail for people sitting in jail awaiting trial unable to raise bail. The frightening part of this is that this wait can take weeks, months or even years. In the mean time the family suffers, the person may lose his or her job or suffer other harmful consequences.
Appolition and the National Bail Out network are working to help the poor caught up in the criminal justice system. According to Arissa Hall, project manager of National Bail Fund Network, "In a lot of places, trials don't start for a very long time and people just want to get out of jail. Pleading guilty means getting to go home," she says. In New York City alone 70 percent of people arrested on misdemeanor charges pled guilty at their first court appearance just to get out of jail.
National Bail Out organized a 'Mamas' Bailout Day,' to raise money to bail for black mothers our before Mother's Day. The effort was specifically meant to help African-Americans who are disproportionally impacted by the criminal justice system. According to Hall in at least 70 cities, police arrest blacks at rates 10 times higher than others.
You can sign up for Appolition by visiting the website. You can also find alternate ways to donate by making a one time donation or recurring donations.