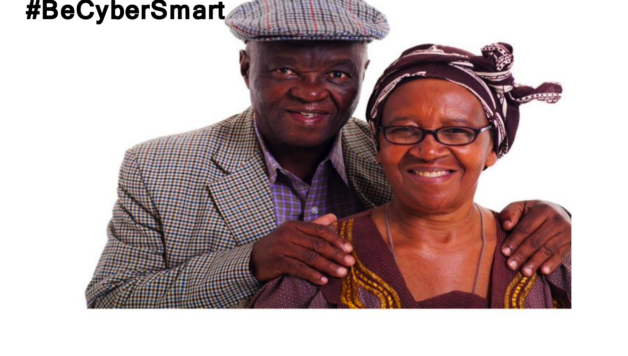 Cyber Security Awareness Month – Scams Targeting Seniors
#BeCyberSmart
During Cyber Security Awareness Month we need to think about our senior citizens. The rapid pace of technology innovation can leave many of them in a vulnerable environment. Compared to teens who grew up with the internet they just can't grasp the new technology or how it can hurt them. We need to be alert and protective of our senior loved ones.
Scams targeting the elderly are rampant and costing the elderly hundreds of millions of dollars annually. According to the Federal Trade Commission the elderly were ripped off for more that $600 million dollars last year. The really sad fact is that most elderly fraud is not reported out of embarrassment so that number maybe on the low side.
According the American Association of Retired Persons these are the top scams targeting the elderly.
Lonely Heart Scams
Elderly people are often lonely and and a lonely heart is an open heart. And scammers know it. Last year the elderly lost over $160 million to lonely heart and online dating scams. Scam artists work the over 50 dating sites hard. And for every senior citizens that reports being scammed there are five that don't. These scam artists often claim to be someone they are not and to be just as lonely and looking for love. That's how they slither their way into the heart of older people looking for love and companionship before stealing everything they possibly can.
Older people are open to this scam because they want to believe that the other person is genuine. They are far more trusting than younger people and haven't learned that you can be anybody online.
The hardest part of this scam is having to tell your grandmother or grandfather that the person they have become fond of is a crook. They may not believe you immediately, or at all for that matter.
How do you prevent this?
Warn the senior citizen to be alert to the person asking for money or loans. Small amounts usually become bigger and bigger.
If this is one of your grandparents make sure you try to get to know the person they are dating. Ask questions and investigate his or her story. Be alert to people who claim to already be wealthy or have no children or living relatives. And don't get too cozy with the person. These are professional con artists and they can lure family members in as well.
Beware of get rich quick schemes, investment scams and business opportunities for the elderly. Especially those that promise exorbitant returns.
Are they in hurry to get married? That's a red flag. Any person that proclaims undying love and devotion in weeks or months should be considered very suspicious.
Who is this person? You can use a facial recognition technology to search out this person on Google Images. You can also use Fakes.CyberDating.Net. This website will help you spot dating scams. And if you really believe you are dealing with a con artist notify the police. They maybe looking for him.
Remember, to keep the senior citizen you care about safe you may have to play detective.
Lottery and Prize Scams
Everybody wants to be a winner. And prize scams cost the elderly $69 million last year.
Publisher's Clearing House is an often used name when perpetrating a prize scam on the elderly. And the scammer often will claim the person is a winner even if they did not enter the contest. Next they ask for a small fee to collect a much larger prize. Don't fall for it!
Anybody that asks you to pay a fee to collect a prize is a crook…period! Anyone that says you can enter the contest after you have already won, saying its technicality…is a crook! If you did not enter you did not win. If you entered and they still ask for a fee to collect your prize be suspicious and call the cops. Most states do not require you to buy or pay for anything to enter contests. There are very strict and definitive laws governing fundraising, raffles and prize giveaways. Make sure you and your elderly loved one understands this.
Business Imposter
Another scam that can be even more dangerous than the simple romance scam rip off is the business imposter scam. This scam can steal valuable information that could be used for identity theft and account take over and even the transfer of money and property from the elderly. This scam accounts for some $65 million in annual losses.
The imposter or scam artists will pretend to be a company executive or payroll employee, possibly from their retirement or pension fund, asking for sensitive information such as a copy of a W-2. This is called a phishing attack. It comes either by email, phone or text message know as smishing. The criminal can then use that information to file a bogus tax return, according to this warning from the Internal Revenue Service.
This scam get even more dangerous if the scammer has done enough homework on the elderly person to know about retirement savings or other property. Fast talking scam artists may convince the elderly to sign documents that turn everything over to the crook. This is often the case when love comes into the equation. The elderly person, believing they are in love, will sign the documents. Also keep an eye on any caregivers who may have access to sensitive papers or documents in the home.
Warn the elderly to never give their personal information to anyone they don't know over the phone or via email or text. Make sure they know to have a trusted family member or lawyer look over any documents before they sign anything.
This scam is especially popular around tax time but be alert year round..
Investment Scams
Seniors on fixed incomes and looking to grow their savings or increase that income maybe especially vulnerable to investment scams. Online investment scams are rampant and often the elderly have no idea who they are dealing with. Remember anybody can be anybody online. Facebook and other social media are heavy with investment opportunity scams. Lonely heart scammers often use investment scams to rip off the elderly and a social media friends may not be your friend at all. Beware the "friend" of a "friend."
The U.S. Securities and Exchange Commission's Guide for Seniors recommends, "Spend some time checking out the person touting the investment before you invest, even if you already know the person socially. Check out the disciplinary history of an investment professional quickly and for free at Investor.gov."
Tech Support Scams
The average elderly person knows little or nothing about tech support. They are vulnerable to scam emails and advertising for anti-virus or anti-malware products and services. And the tech support phone calls are a big moneymaker taking over $37 million annually from unsuspecting senior citizens. First things first; let your senior citizen know that no legitimate company is going to call them and tell them they are infected. Advise them to hang up immediately. No legitimate company is going to email them and tell them they have been infected or their computer is spreading viruses. Again delete the email.
These scammers may call the senior citizen claiming to work for Microsoft or Google or some other tech company and try to persuade the person that their computer needs a software upgrade. And that the upgrade is low cost or even free if they give them access to your computer.
If given access to the person's computer they could download a malicious program that can steal their personal information, hold their computer hostage or install key loggers or other spyware that steals passwords or other sensitive data.
According to a Microsoft support page, "At best the scammers are trying to get you to pay them to 'fix' a non-existent problem with your device or software. At worst they're trying to steal your personal or financial information." So let them to never give their credit card number to someone they don't know over the phone.
Scam and spam calls are the bane of modern smartphones. For the senior citizens remember, never give your personal information to anyone you don't know. Add your landline or cell phone number to the federal DoNotCall.gov. Or you can add a phone number to the Do Not Call list by calling 1-888-382-1222 from that phone.
Online Shopping Fraud
Any deal that sounds too good to be true probably is. And there are a million online scams for sale.
Elderly people may not be savvy to the many e-commerce scams especially ones that appear in places like Craigslist or eBay or other person-to-person shopping websites.
Many fake websites can look legitimate. But these sites are designed to do one thing; collect payment information like credit card numbers and verification codes. Its a lot easier than you might imagine to get ripped off trying to buy something online, especially for older people.
Clark Howard has a list of ways to spot a fake online store. You can also check the legitimacy of any website by using free online verification services such as UrlVoid.com or Google's Transparency Report.
Every year the elderly lose over $30 million to fake online stores. Help your senior citizens when they want to shop online and make sure they always use a credit card online. If they believe that have been defrauded they can report it to the credit card company and hopefully not lose their money.
Family Members in Trouble Scam
Here is another popular scams that elderly people need to look out for. Scammers have been calling parents and grandparents claiming to be grandchildren or relatives in trouble or in jail on a foreign country. The scammer will ask for money to be bailed out, pay a fine or lawyer and ask the money be sent via wire transfer.
The scam usually follows a familiar script and works like this. The parent or grandparent will get an e-mail reporting that a relative has been injured in an accident, usually in a foreign country, and they need money for medical treatment. Or a caller will claim to be a relative, or a person claiming to be a foreign official saying the loved one is in jail and needs to pay a fine or need money for bail.
These scammers have a million angles. Don't recognize the voice? its a bad connection or the supposed relative is sick.
One bit of advice is when someone is asking you for money you ask the questions. According to the AARP, to verify you are indeed talking to a relative, ask certain questions that only the family member would know the answer to, such the name of a family pet.
"Say you'll call right back, then call your grandchild's usual phone number," says the AARP.
If you do travel a lot Clark Howard advises that you should tell your aging relatives to always call or text you to verify there's an actual problem. "99.9% of the time, you'll find out that it's just a scam," says Howard.
Time Share Sales
According to the AARP scams involving timeshare sales and re-sales cost senior citizens $17.4 million and $13 million respectively. And Clark Howard believes that timeshares are just not a good investment.
"Even if you love your timeshare, anything you buy that is hard to ever sell is not a valid product in a market," said Howard. "There should be a market both to buy and sell something. Timeshares, sadly, are good on the buying side, you can buy them very easily, but they're bad on the selling side." Howard warns, "Don't believe anyone who says they can get rid of your timeshare easily."
The bottom line is that timeshares are a money trap. You can get in but you cant get out. This is not to say that all time share sales are a scam. That is not true. But as an investment you may never get any real return on your money.
#BeCyberSmart