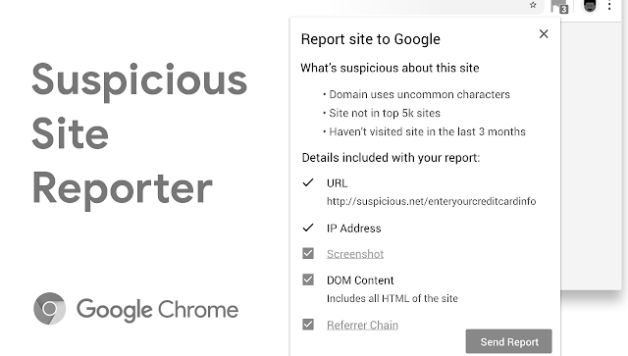 App of the Week – Suspicious Site Reporter
Cyber security is sort of a civic duty. If you are using the Internet do somebody a favor and let them know when you smell a rat. Thats why Suspicion Site Reporter is the App of the Week.
Let me correct myself, this week's app is actually a Google Chrome extension.
Google has launched a new Chrome extension that lets you sound the alarm on suspicious websites for inclusion in the company's Safe Browsing index. The index is used by Google Chrome and a number of third-party browsers that include Safari, Firefox and Vivaldi and GNOME web browsers. This makes it especially useful.
As an added bonus Google is also providing a new warning in Chrome that stops you before you visit one of the millions of criminal websites. Many of these sites appear legitimate but are actually looking for victims to trick into giving up their credentials or download malware.
The Safe Browsing tool normally cruises the web looking for these suspicious sites. But Chrome's new extension lets you help out if you come across a suspicious site first.
Reporting funky websites is a simple process and the extension even lets you include screenshots if you so choose, the referrer chain that got you to the site in the first place and the DOM content of your browser. It's your choice which one of these to send and the screenshot option is off by default.
Your browser bar will get a flag that will change color based on how legitimate it judges the website to be. The flag will turn orange for any site that isn't a top 5,000 site. This should cause you to at least think before clicking on the site. There are plenty of websites people visit that are not in the top 5,000.
As for the new warning in Chrome 75, Google points out that its purpose is block you from visiting websites sites that try to trick you with deceptive URLs that look like, and seem legit, but certainly are not. This is known as typosquatting. If you land on one of those websites Chrome will hit you with a full-screen roadblock warning you to turn back or face the consequences.
According to the Google team, "This new warning works by comparing the URL of the page you're currently on to URLs of pages you've recently visited. If the URL looks similar, and might cause you to be confused or deceived, we'll show a warning that helps you get back to safety."
We could all use a little help staying safe online. And if you could keep someone from getting robbed wouldn't you?