App of the Week – Blink Health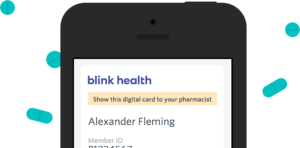 The greatest travesty of living in America is the cost of health care.  Far too many people simply suffer because that can't afford to see a doctor or pay for medication.
Even with the Affordable Care Act (ACA) many black people are still uninsured. According to the Pew Charitable Trusts  over half of  all African-Americans, 55 percent,  live in the 23 states that have not expanded Medicaid eligibility under the ACA. The numbers are not much better for other groups. The Urban Institute reports that by comparison, 42 percent of whites, 38 percent of Latinos and 23 percent of Asians live in states that have not expanded to the ACA standards.
Even worse in non-expansion states a disproportionate number of African-Americans fail to qualify even for the narrower Medicaid program in place now. The result is that far too many black people have little or no medical or prescription coverage.
 That is why Blink Health is the App of the Week.
According to Blink Health as much as 30 percent of all medications are left on the pharmacy counter for one simple reason; the patient can't afford them.
Blink Health co-founder and chief operating officer Matt Chaiken says people wrongly assume that if they have insurance they also have prescription coverage.  "There's a common misconception in this country. Patients believe that, because they're covered by insurance, they're paying the lowest price at the pharmacy counter. This is not the case."
Blink says it can offer lower prices on more than 15,000 mostly generic medications for less than $10. These price reductions are made possible because of the purchasing power of the combined membership of Blink Health and partner company MedImpact. The list of pharmacy chains that accept Blink Health includes Walmart, CVS, Rite Aid, Walgreens, Target, and many others
The BlinkHealth app allows the user to enter the name of their medication, dosage and quantity and the app will return a price quote. The user can pay for the prescription online. After the prescription has been paid for the app issues a proof of purchase known as a  "Blink Card" directly to the users phone. The user can then go to the pharmacy with their prescription and show their Blink Card. As long as they have a valid prescription from a physician the prescription will be filled. Nothing is paid at the pharmacy.
BlinkHealth is free and available for both and Apple and Android devices.