MURDER! Apple Pay Kills the Credit Card!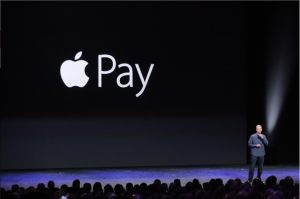 Apple announced yesterday it was introducing a new mobile payment system. Known as Apple Pay the system will allow the consumer to make purchases by simply waving their iPhone in front of a POS receiver or just tapping the screen.
Apple Pay works with Apple's Passbook app. The app allows users to digitally store coupons, tickets and merchant loyalty cards. iPhone users can use a stored credit card inside the app. Customers simply wave their phone in front of a terminal to pay.  The technology that delivers the payment is called near-field communication, or N.F.C., via a chip embedded in Apple's new iPhones.
Technogeeks have been predicting this move for years and Apple seems to have made those predictions come true. Apple announced that it was working with big retailers like Target and restaurants like McDonald's and the the big credit card companies. The result will be that consumers will be able to purchase a burger, a box of dryer sheets or a riding lawn mower with greater security. Consumers can use the system with the new Apple smartwatch or iPhone 6 to make the purchase.
Apple Pay gives Apple the competitive edge in mobile payments. Forrester Research, a technology analysis firm, expects the mobile payments market to reach $100 billion in the U.S over the next five years. But the question remains; will the consumer accept this new device to use on an everyday basis? And of course if they do will Apple be able to hold significant market share?
Apple's innovation is slightly different from previous efforts at mobile payments. But Apple has to convince the consumer of the security of this new system. This includes ensuring the user that credit card information will not be stored on the iPhone or other devices or on Apple's servers. Basically the consumer has to believe that the new system is safer than a credit card.  "We're totally reliant on the exposed numbers and the outdated and vulnerable mag stripe," said Timothy D. Cook, Apple's chief executive at yesterday's announcement event in Cupertino, Calif. "Which all of us know aren't so secure."
Tom Pageler, the chief information security officer at DocuSign, a company that manages digital transactions, agreed that Apple's payment system appeared to be more secure than the current system. Pageler said another benefit of the N.F.C. technology is that payment companies could more easily identify a purchase made outside a customer's usual location.
Apple Pay could create a revolutionary shift for the mobile payment systems. Companies like Google, Amazon and Microsoft  will be forced to play against Apple and agree to cut deals with retailers and credit card companies. This would make mobile payments more widespread.
Apple's announcement was well timed. U.S. retailers are facing a near mandate that they migrate from the current magnetic strip cards to the more secure PIN and chip card by the end of next year. This PIN and Chip system has become the defacto standard in Europe and is much more secure than U.S. cards.  But American retailers have been reisistant to switching simply because they do not want to pay for the new system hardware and installation.   Apple's new system, if it finds wide spread aceptance, could make the change much more appealing.
According to Cook Apple Pay would only be available on its new smartphones, the iPhone 6 and the larger iPhone 6 Plus, and the new Apple Watch that will reach the market in 2015.
Breaking It Down
Too many people fell for Apple's "Me Too & Done It Again" show. Yeah, Apple has a new iPhone; so what? Yeah they have a new computer watch. Been there; done that. Among all the hoopla and fanfare Apple murdered the credit card in front of thousands of witnesses.
America has become the favorite patsy of the hacker community because our payment security systems are a joke. A bad, costly joke. Our retailers refused to do anything about it and the government failed us. The credit card is dead and thank you Apple.
The key to what Apple is doing is the fact that Target and the three major credit card companies are on board. That is all you need. These credit card companies and retailers realize that the legal system and legislators are under strain and that sooner or later the dam will break and the law and lawsuits will turn against them. This scares the hell out of them.
For retailers, like Target, the impact of the last data breach was unacceptable. Another breach could destroy them. They know a new payment system is desperately needed and Apple has delivered. Every major retailer in the country is meeting to discus this new payment system and wiping the sweat from their brows. Apple just turned the heat down.
Retailers were fighting the new PIN and Chip system but were being forced to adopt it. They understood the need but fought against the price. But Apple has jumped over any credit card design. The new mobile payment system will secure the purchase process from end to end and this is what the consumer and the retailer demands. It's the revolution we have all been waiting for. We have suffered too many data breaches, credit card fraud and retail POS hacks to keep doing things the old way. It just became too much.
For black people we can feel, like most Americans, that relief is within site. We can stop feeling so nervous about using our credit or debit cards at stores. We will soon say goodbye to those sliding card POS systems and losing sleep afraid to wake up to a new data breach. Could those days be behind us? It seems so.
Americans should rejoice at the this new way of paying for things. Apple has a history and mandate to innovate and they have delivered again.  The credit card is dead and somewhere in heaven Steve Jobs is smiling.