Troubled Uber Hires Black Woman to Manage It's Brand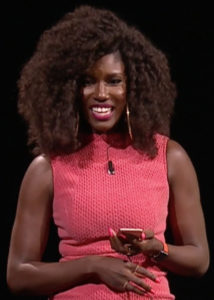 In case you haven't heard Uber is having it's troubles right now. First there was the video of Uber CEO Travis Kalanick berating an Uber driver leading to his apologizing and asking for leadership help. Then there was the scandal involving Uber using technology to avoid government monitors. Uber drivers are suing the company for unpaid wages. Now an Uber board member has resigned after making a blatantly sexist remarks during a board meeting about sexism in the workplace. And now Kalanick has resigned as CEO but will remain on the board of directors. The company is in turmoil to say the least.
Enter Bozoma Saint John. Saint John is joining Uber as the new Chief Brand Officer. Saint John is departing Apple to accept the position. At Apple Saint John was head of global consumer marketing. She also headed up music and entertainment marketing at PepsiCo, where she struck a massive $50 million sponsorship deal with Beyonce.
Embattled Uber CEO Kalanick said in statement to Fortune, "Boz has a long track record of successfully creating emotional connections between people and the products they love. Her creativity and deep understanding of consumers will allow us to build the same love and appreciation for Uber's brand as we've built for Uber's service."
This is a good move for Uber. The company is facing severe scrutiny for alleged sexual harassment in the work place. The claims have forced Uber to hire former U.S. Attorney General Eric Holder to conduct an internal investigation. But hiring a black women for the job of cleaning up the brand and adding diversity to the executive staff can only help the battered company. This year alone Uber has had top leadership quit. This includes its number two executive Jeff Jones who departed over concerns about management culture.
Fortune Magazine recognized Saint John as one of its 40 Under 40 last year for her work at Apple Music. Speaking at Fortune's Most Powerful Women: Next Gen summit in November 2016 Saint John addressed her efforts at trying to fit in as teenager at a Colorado high school. This after spending a good portion of her childhood in Ghana. "I couldn't be blond, I couldn't be white," she said. "At 13, I learned what it meant to walk into a room and not care what everybody thinks of you."
According to an Uber report issued in March no Black or Hispanic employees hold leadership positions on the technical side. The company said of the findings, "This clearly has to change. A diversity of backgrounds and experience is important at every level."