Celebrity Cyber Report – Dennis Rodman, Drake and Kanye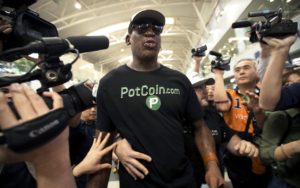 Dennis Rodman and PotCoin.
Smoking weed has always been big business. And now it is also slowly becoming a very legitimate business. Anytime Microsoft comes looking for a piece of the pie you know its legit.
Dennis Rodman has stepped into the weed game endorsing a new virtual currency to pay for your weed. Rodman showed up in North Korea on a ticket paid for by PotCoin. A new digital currency that bills itself as "Banking for the Marijuana Industry." Rodman Tweeted a thank you to PotCoin for "financing his mission."
PotCoin issued a press release announcing the "mission." According to PotCoin Rodman will tell us all about it when he returns to the states. But we would be remiss if we did not point out that smoking weed is perfectly legal in North Korea. Something I am certain those nice folks at PotCoin are well aware of.
Sporting a PotCoin-branded t-shirt and baseball cap, Rodman released a short video  touting his visit as "all about peace." This is not the first time Rodman has promoted a company by visiting the most closed country on earth.  Previously Rodman's visit to the North was sponsored by an Irish betting company. Of course with this visit PotCoin crypto-currency shot up in value.
See also: Snoop Dogg Launches MerryJane.com 
Drake and Kanye Under Hack Attack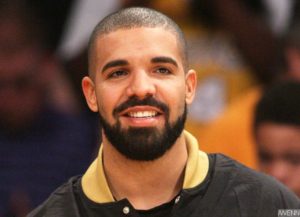 Hackers love celebrities. So why not Drake and Kanye? According to reports a group calling itself the "Music Mafia" hacked Drake's Twitter account. The same group also released two of Kanye's unreleased recordings on YouTube and are threatening to strike again. Music Mafia's website is offering more un-released music for sale using the Bitcoin virtual currency. 
Music Mafia, after claiming responsibility for the leaks,  had been laying low until this week. The group hacked Drake's Twitter account on June 2nd  and posted a link to their website. The Tweet was quickly deleted.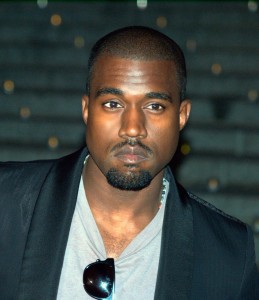 Then Music Mafia leaked Kanye's new music. According to the hacker website they are in possession of  unreleased  "songs from artists recorded years ago" as well as new tracks and music videos. Music Mafia is also offering members of the public exclusive leaks. 
Music Mafia offered the unreleased tracks of Calvin Harris' 'Slide', Future's 'Ransom' and a few other songs. But are now threatening to release more music from Kanye, Maroon 5 and PartyNextDoor,  for payments in Bitcoin.
The hackers seem to be are offering the stolen cuts only after they collect an unknown number of Bitcoins. The thefts are being carried out by highly professional hackers who have done well covering their tracks.The Music Mafia website is registered in the Kingdom of Tonga. But that tiny country's servers appear to be hosted in Iceland by a company specializing in secure and anonymous web hosting. The only way to get in touch with them is through the decentralized and encrypted Bitmessage communications platform.