Samsung Galaxy Note 7 Goes Down in Flames!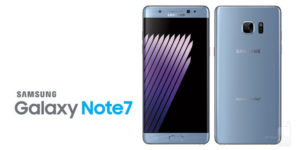 Its not often a company releases a product that is an absolute disaster. It doesn't happen often but when it does it is history.  Samsung has joined the list of companies that have done so. Here is the history of the Galaxy Note 7.
Samsung's Galaxy Note 7 was thought to be another major success in the heavyweight battle between Samsung and Apple. It turned out to be a calamity of un-imagined dimension. As a result the Note 7, Samsung's flagship smartphone, has been completely, totally and finally thrown on the crap pile of  epic product failures.
August 19, 2016 – Samsung released the Galaxy Note 7 to the market with great fanfare. Many critics hailed the waterproof device as the best smartphone ever.
August 24, 2016 – Reports surface of  Samsung's new smartphone bursting into flames.
September 2, 2016 – Samsung announces the first recall of the Note 7. According to Samsung the reason the phones were catching fire was because of a faulty battery from a supplier.  It is one of two batteries that power the phone. Note 7's sold in the U.S. were recalled. But the recall did not extend to other countries because, according to Samsung, they did not receive phones with the faulty battery. However the recall was delayed and not initiated until  September 21st. Consumers are left confused by the delay.
September 8, 2016 – The FAA warned owners of the Samsung phone not use the devices on board commercial flights. International and domestic carriers followed the directive and banned use of the phone on flights.
September 21, 2016 – Samsung initiates Note 7 product recall. The recall did little to correct the situation as replacement phones also began catching fire. This was followed by reports of phones catching fire in other countries like China where the was no recall in effect.
October 5, 2016 – A Southwest Airlines flight was evacuated when a Note 7 went up in smoke on board the plane. The owner of that phone reported that it was a replacement phone.
October  9, 2016 – AT&T refuses to exchange the Note 7 for replacement phones."Based on recent reports, we're no longer exchanging new Note 7s at this time, pending further investigation of these reported incidents," an AT&T spokesman said in a email statement.
October 10, 2016 – Samsung ceases all production of the Note 7 phone but does not initiate a second recall of the device.
October 11, 2016 – Samsung announces the death of the Note 7 phone when it initiates the final global recall of the product. Owners can return the phone to the store for another device or a refund.
October 12, 2016 – Samsung begins to suffer the fall out from the Note 7 catastrophe.  The Korean technology company announced it has slashed its quarterly profit estimate by a third. The company will absorb a $2.3 billion direct hit from the flaming demise of it's latest smartphone. Experts are already calling it one of the costliest product safety failures in tech history. Samsung has not been able to tell consumers what caused the phones to catch fire.
October 14, 2016 – In an effort to get the phones back Samsung announced an incentive to owners of the Note 7 who have not returned the device. Samsung is offering a $100 credit to owners who trade in the Note 7 for one of Samsung's other devices like the Galaxy S7 or S7 Edge. Samsung is seeking to regain control of these dangerous devices by encouraging owners to return them.  Owners of the suspect phone who ask for a full refund or switch to another manufacturer's phone will receive $25.
Tim Baxter president and chief operating officer of Samsung Electronics America said in a statement, "Customers' safety remains a top priority and we ask consumers with an original or replacement Galaxy Note 7 to power down and take advantage of the remedies available." 
But Samsung is encountering even more problems trying to retrieve the dangerous devices than it counted on. First many owners of the phone love it because of its waterproof construction, curved screen and excellent cameras. Another problem is the complicated process of packing the phone in the fire proof box provided by Samsung.
For more information and how to return your phone please got to Samsung Product Safety Recall.
Breaking It Down
Samsung is a smart company. It is also a caring company that takes a lot of pride in its products. They are some of the best on the market. So in the long run with solid business leadership this company will recover. But what the consumer is waiting for is a straight answer as to what caused the problem in the first place. Samsung, like Apple, have loyal customers who deserve an answer.  Hey Samsung if you read this; we're waiting.
But lets look at the market as a result of the Samsung stumble. Look for makers of Android devices to step up marketing and manufacturing to fill the gap left by the Korean giant. Market share is up for grabs. Apple will also look to tear off a chunk of Samsung's customer's as well.  After all they are its primary competitor. From Samsung you will probably never hear of the Note product line again. Its gone.
For the foreseeable future its the battle for increased sales from the likes of Motorola, Lenovo, LG, heck even Microsoft might get something out of this.
As for Samsung, the future still looks bright because this company will comeback stronger than ever. Investors know this. Although the stock price has dropped, almost no one is selling. They know that this problem will be solved and Samsung phones will return to market. Most CEO's understand that these things happen. Not often but they do. The trick is to keep your customers on your side until you get it fixed. Trust me, this is going to be a great business school lesson in few years. Hopefully with a happy ending. Good Luck Samsung.