Online Price Discrimination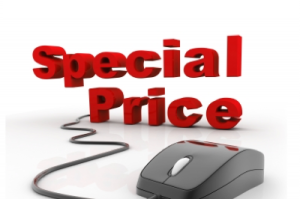 African-American people are extremely sensitive to discrimination. No matter what form it takes it is ugly and wrong. Unfortunately discrimination has found a home on the Internet. Its called price discrimination.
We have all had it happen to us. You search for a product or service and find it at one price but then later, sometimes only minutes, the price will change. We have all heard that you should search for flights on certain days and at certain hours to get the best deal. But Internet pricing is discriminatory, even predatory, according to factors that will surprise you.
Research from Northeastern University analyzed how online stores customize prices according to a shoppers digital habits and demographics such as their ZIP code.  The study revealed  major e-commerce sites including Home Depot, Wal-mart, and Hotels.com list online prices that are all over the map. Not only that but in some situations prices are customized based on the behavior of a particular shopper. This behavior includes whether you are shopping on a  smartphone or desktop. The report was presented this at the Internet Measurement Conference in Vancouver, Canada.
"Going into this, we assumed the project would be risky—that we might not find anything," says Christo Wilson, an assistant professor of computer science at Northeastern and one of the study's authors. "There have been incidents in the past where companies have been caught doing this, and the PR was very bad. We thought that sites wouldn't be doing anything. We were more surprised that we found something."
Some companies whose sites were studied complained that the study methodology was flawed. Northeastern researchers did admit to one mistake but believe that the study provides insight into how your shopping experience can change depending on personal factors.
The actual searching and shopping was performed by 300 people recruited through the crowd sourcing site Mechanical Turk. Researchers had them shop online and perform product searches on 16 top e-commerce sites. The study tested these sites for personalization based on the browser a web shopper might use such as Chrome, Internet Explorer, Firefox or Safari.  Also tested were operating systems; Windows, OS X, iOS, Android, and whether or not a user was logged into the site as a regular customer with an online account.
What the research is looking at is the ability of e-commerce sites to tailor what you pay based on what they know about you. That's discriminatory. For example does you zip code indicate an certain income level?  Does that mean you can or will pay more? That's predatory.  Are you paying more for a plane ticket based on your profile on a travel website. That's predatory. Or what you post on Facebook? That's discriminatory.
How true is this? We already know that online advertising is targeted at you based on your web searches and other online activity. We also know that Facebook will follow your activity and travels on the Internet even after you log off the website. Merchants use cookies to monitor your activity on websites as well. Another fact to consider is that African-Americans and people of color are more likely to use mobile technology for banking and shopping than white Americans. Your digital profile is out there. Could prices be set based on that? It seems so.
What the test revealed was that if you shop using your smartphone some online stores actually pay attention to what kind of smartphone you use. Home Depot and Travelocity.com websites were the target of the research but they both deny this activity. Researchers admitted to a flaw in the study methodology pointed out by Travelocity.
However, Travelocity admitted to offering a handful of mobile-only offerings on smartphones and tablets that don't appear on searches performed on desktop computers. Why? Its a tactic used to encourage the download of the the mobile app. A Travelocity spokesperson told Wired.com that results aren't cheaper by design but sometimes are since Travelocity smartphone users might be looking for a place to stay at the last minute. Results that appear on mobile devices appear to bring down the average price the spokesperson explains. But Travelocity claims the pricing for the same specific properties remain constant across platforms.
Wilson and his team of researchers were able to highlight other forms of price discrimination on some websites but were unable to determine the root cause of the price variations. Among those most notable are Sears and rental car websites. "We tried different browsers and different platforms. We tried logging in and logging out," Wilson says. "But it looks like there's something else in there that we haven't figured out yet."
Northeastern researchers don't believe that cookies are all bad. According to Wilson on sites like Cheaptickets.com or Orbitz.com, users who are logged in will often be shown "members only" pricing that, on average,  saves the member $12 on hotels. But if buyers cleared their cookies before conducting the search, they wouldn't be logged in and wouldn't see that discount.
Wilson and the Northeastern team avoided Amazon.com and eBay.com. These online marketplaces, explains Wilson, allow sellers to list their own products and used items making things too complicated.
Considering the discriminatory pricing found by this research how does the consumer get the best offer for your money? Wilson points out that there's no one-size-fits-all solution. "Every site we looked at was doing something different—changing different things based on different information," he says.
There are some guidelines for searching and shopping online;
Perform searches on all platforms you have access to. That means your regular browser, an incognito or anonymous browser, and your smartphone or tablet.
Plan ahead and take your time to observe price fluctuations.
Be extra thorough asking a friend or relative in a different zip code to do the same thing and see what results turn up.
Incorporate every money saving tool you can. That includes coupons, credit card discounts, adjusting time and date of travel. Use frequent flyer miles and credits. Ask about credit union or employer discounts.
This way of shopping may be tedious and much different from your mall stores with clearly marked prices, coupons and discounts but it's an unavoidable part of our digital lives. If you shop online in any form you might as well get used to it. "All online retailers are watching each other, and it's a race to the bottom," says Wilson. "The only thing that changes between online stores and brick-and-mortar stores is the pace at which that happens. It's faster online."
Now you know.