Tax Season 2017 – Talk to Parents and Grandparents About Tax Scams
Published On April 4, 2017 |
Tax Season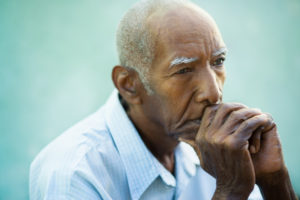 Tax season is scam season. It is also a good time to talk to elderly people about their tax returns. In the age of the Internet, email and smartphones older people to get confused and even intimidated by the technology. And scam artists know this.
For elderly African-Americans information security is a key concept they need to understand. Something as simple a securing sensitive papers can make a great deal of difference. African-American seniors need to understand that simple documents such as a utility bill can lead to identity theft. These are new concepts for many older people.
Some elderly people live in senior citizens homes or assisted living facilities. Others have in home care. These older people, because of their situation, are vulnerable. If you have a parent, grandparent or elderly reative in this situation make sure mail and other documents are properly secured. Live-in or visiting caregivers are supposed to be trusted but we know that is not always the case.
Makes sure they understand that they are not to give any information over the phone. Fake IRS scam artists are very skilled at intimidating and confusing older people on the phone. Make sure they know to hang up the phone immediately. Remember, some calls are phishing calls. This is where the caller asks question to get information that is just the beginning of the scam. They use methods known as social engineering. Older people are vulnerable because they may fall for a friendly voice on the other end asking seemingly innocent questions. Other times they may think they are talking to the IRS.  Again, remind them never give informaion over the phone.
Ask questions; who is preparing their taxes? Is this a legitimate company? Can they be trusted? How is their information handled and secured? How much are they charging? All these question maybe intrusive but if you feel your parents or grandparents are vulnerable then its better to be an nuisance now than to regret it later.
Some older people do indeed use the Internet to shop, send email and conduct other business. Make sure they understand that the IRS does not conduct business by email. Teach them to avoid clicking on links or opening attachments.
Finally, persuade older people to ask for help. Many older people guard their independence jealously. They want to feel they are in control of their own lives. Make sure they know you are there to help them and protect them.