Celebrity Cyber Report – Mike Tyson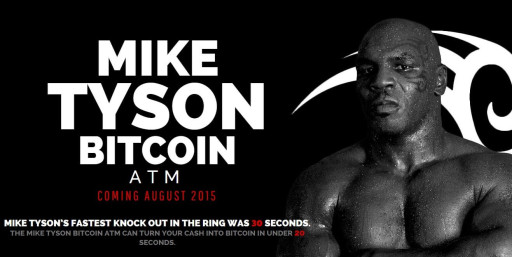 Former heavyweight boxing champ Mike Tyson has jumped into the Bitcoin game. You might remember the mountains of money that boxing legend George Forman made by endorsing an electric grill? Well Iron Mike is using that strategy by endorsing an app based Bitcoin wallet and ATM.
Bitcoins are a digital currency that is created and held electronically. Unlike hard currency such as the dollar or Euro, there is no controlling authority and its completely untraceable. Bitcoins are produced by people, and by more and more businesses, running computers all around the world using software that solves mathematical problems. Solving these problems results in the creation of a Bitcoin. That's Bitcoin in a nutshell. To learn more about Bitcoins check out this article.
Tyson is endorsing Bitcoin Direct, a subsidiary of Connexus Corporation. In a separate deal Tyson previously announced another partnership with this company  which is making Bitcoin ATMs more widely available.
This new app based digital wallet is designed to introduce Bitcoins to smartphones. Users of smartphones  will be able to buy and sell Bitcoins through the app. The app will set certain thresholds for minimum amounts, letting the user quickly confirm payments over the platform and reducing the risk of losing their Bitcoins through a glitch or hacking.
Tyson admits he is no expert on the digital currency and neither was George Foreman a chef. So Like George, Iron Mike is bringing his name, fame and facial tattoo to the company.