The Deadly Internet – Drug Dealing Online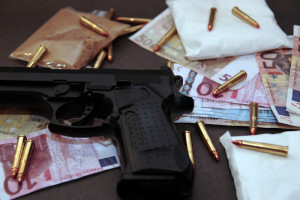 Shopping online is a great way to expand you choice of merchandise and get the best price. The Internet is the world's greatest marketplace and drug dealers know it. The dark web has become a vast drug market where dealers and users can do bussiness in complete privacy. Law enforcement knows this is happening but are almost powerless to stop it. Its happening on the deep, dark and dirty web.
The one thing every drug dealer wants is privacy and anonymity. The dark web is the perfect place to buy and sell drugs and perform other associated tasks. These include moving and hiding money, buying and selling weapons and even taking out the competition if need be.
Have you heard of Silk Road? From 2011 to 2013 Silk Road became known as the "Amazon.com" of online black marketplaces. This dark web site  was selling a staggering variety of drugs that included heroin, LSD, marijuana and assorted paraphernalia to customers around the world. By 2013 Silk Road was thought to have earned as much as $1 billion in sales. This money accumulated in the currency of the Internet, bitcoin.
But within months Silk Road, targeted by law enforcement, was shattered. The alleged master mind, Ross William Ulbricht, was arrested on suspicion of drug trafficking, soliciting murder and other charges. Ulbrict, who authorities claim also goes by the handle of Dread Pirate Roberts is currently on trial.
Another dark web culprit recently pleaded guilty to helping Silk Road. Charlie Shrem, founder of the digital currency company BitInstant, pled guilty  and was sentenced to federal prison for aiding and abetting and illegal money transfer company. Shrem and co-conspirator Robert Faiel pled guilty separately.  Both men agreed to forfeit $950,000 to the government as a condition of their deals.
US Attorney for Manhattan, Preet Bharara, said that Shrem and Faiella sold $1m in bitcoins to "outlaws" on Silk Road, which led to their conviction.
Silk Road was nearly re-born in the "2.0" mode in late 2013 but was shut down in February of 2014 by hacker attacks. But as any cop will tell you the lure of big money is too great. As soon as Silk Road was sunk a whole new collection of online drug markets popped up in its place challenging U.S. and international drug enforcement agencies.
A report  issued by the United Nations Office on Drug and Crime (UNODC) reveals that illegal online drug sales has not only grown larger but have taken on more risk, selling to more people and selling more dangerous substances. Dark web drug sites have evolved into a form that resembles traditional online marketplaces.  A new dark web site, DarkList, stepped into the void where Silk Road once dominated. This bold endeavor connected buyers and dealers in a Yelp-style arrangement.  This was followed by Agora in September 2014. This site offered more product listings, including weapons, than any other online black market. These were followed darker and more dangerous online vendors such as Deepbay, Sheep Marketplace and Black Market Reloaded. The Black Market Reloaded website labeled itself "Silk Road without morals". The site made offereed not only drugs but weapons and child pornography and took only untraceable bitcoins for payment. This protected users by providing anonymity. Sales figures for dark websites are impossible to accurately estimate but are thought to be only a small fraction of the global drug trade. But even that fraction of a hundred billion dollar industry still provides these sites mind boggling income.
Silk Road was a marketplace and did not actually sell drugs directly. It provided the meeting place for users and dealers to meet.  Michael Duch a heroin dealer and addict told the jury at the Silk Road trial what it was like to sell drugs online and how he made as much as $70,000 month doing it.
Some people believe that the use of the Internet to deal drugs is really a good thing. Advocates and studies of online drug dealing point out that if users are buying drugs online they are less likely to patronize local drug dealers and contribute to the crime and violence that is always a by product of street level drug markets, especially in inner cities and minority neighborhoods. Advocates believe that by pushing those sellers out of the equation it results a reduction in violence overall.  But is that true?
However, not all drugs used strictly for getting high are sold illegally. The Internet has thousands of websites that sell substances and paraphernalia that are perfectly legal. Simon's Legal High blog offers a good listing of the substances you can buy to get high that are perfectly legal. The list includes alternatives to LSD or legal psychedelics, light drugs or marijuana substitutes and drugs that create a feeling of delirium. All legal and available online. Simon's Legal High Discount Wall provides substances from all over the world and a listing of websites that provide these legal highs for sale and the prices.
Now you know