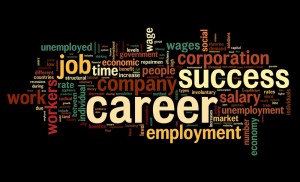 A job! It makes everything else in your life work. Without income everything else goes to hell pretty damn quick! African-American's can attest to this more than any other Americans.
Unemployment in the black community is always, always, worse than other groups. According to the Washington Post black unemployment is sitting stubbornly at 11.4%, twice that of whites. This is a real travesty. My question is why?
According to Pew Research black unemployment has regularly been double that of other groups since 1954! In some areas of the country black unemployment has reached as much as four times that of whites.
I do not believe for a second this is all our fault. This country has a deep and persistent race problem.  It is a proven fact that employers will shy away from hiring you if your name is too black.
A report from Think Progress reveals that Americans prefer doing business with whites. I'm not surprised.
But regardless of the way the game is played we have to get out there and fight for our share of the pie. Looking for work is a job in itself. You have to be prepared and aware of how to look, where to look, and how to present your skills and abilities.
In the age of the Internet more and more jobs are being offered and sought online. So basic computer and Internet skills are more important than ever. As I have just shown you, as an African-American, you need to get real good at presenting yourself to a potential employer.  So how do we do this?
1) First of all create a website of your own as a step above a resume. You can do this in a single day using simple even free website hosting. You can post examples of your work and recruiters can read about your goals and obtain contact information.
2) Do a little research and get to know whats online about you. See what others and former employers know and say about you. This includes social media. Employers are big into looking into your Facebook and Twitter posts. Social media can help you or hurt you in your job search. And don't be surprised if your potential employer asks for your social media password. Is that legal? Maybe. Be aware of what images and comments are out there. Also be aware of anybody with the same or similar name as yours in case there is some confusion.
3) Focus on what you want. Online job boards offer job seekers various settings and filters to help you refine your search and improve the accuracy and speed of results.  Narrow your job search by region, industry, years of experience, expected salary and sometimes by company name. And don't over sell yourself or under sell your skills. Know what you can do, can't do and willing to learn. It's ok to reach higher but not too high.
4) Focus!  So rather than just applying for that sweet job you found online your best strategy may be to first figure out where you want to work. Who do you want to work for? Go after that company or industry. Many employer's career pages will allow the job seeker to fill out candidate profiles describing their background, job interests, salary requirements and other preferences. Keep in mind that many companies have a candidate pool that is refreshed at regular intervals. If you submitted a resume last year it may no longer be in their system. The job you are looking for may not be open right now but that does not mean you can't submit your resume. And re-submit or update it every six months or so. Many human resource managers will look at the most recent resumes first.
5) I did say focus right? Refine your search further by visiting your selected industry's national or regional websites. Examine professional associations and trade groups. You may find jobs in your field that don't appear on a national job board.  Employers are increasingly advertising jobs on these sites to find a bigger pool of qualified applicants.
6) Seek out recruiters. These people are professional and may charge you but they can help match your skills with jobs.  Check out searchfirm.com,  or onlinerecruitersdirectory.com. These recruiters can also help you polish your resume, reveal skills you were unaware of and even discover new markets for your talents.
7) Consider a video resume. Video resumes are a new and innovative way to stand out and get noticed.  This is intended only as a supplement to your standard resume and website. Consider using a video resume on your website. A good video resume permits you to exhibit your personality and interests that are difficult to highlight in a paper or electronic resume. 
8) Do your homework. When you want to know something you Google it right? So Google the exact job you are searching for. You may find resources you were not aware of.
9) Stay alert. Many online job sites offer features that allow the job seeker to sign up to receive e-mail job alerts that match your search criteria. You can also use an RSS (Really Simple Syndication) using a site like Feedly.com. 
10) Network, connect. Have you ever heard the cliche "It's not what you know, but who you know?" Because of social media and sites like LinkedIn.com  job seekers have the ability to connect with people near and far.  You can connect with people in your field to find new opportunities or expand your network for a career change. And the key word is network.  Sites like LinkedIn are made up of millions of industry professionals allowing you to network with people you know and the people they know and so on and so on. But keep in mind that when you sign up for an online social networking site it is very public. Make use of any filters available. Once you put your information out there it can be difficult to take it back. 
Looking for work is hard. Being black and on the job market is even tougher. You have to be prepared, persistent and alert to opportunities when they arise. We know it ain't gonna be easy and we know why. While you're out there you need to make sure your game is tight.
Now you know.
 Top Ten Job Sites according to  AboutCareers.com
2) Dice.com
4) Indeed.com
5) LinkedIn.com
6.) LinkUp.com
7) Monster.com
8) US.jobs
10) TweetMyJobs.com